commerce platforms such as Etsy have gained significant momentum over the last 15 years. Online shoppers can find whatever they want in this huge marketplace. Plus, sellers with a high-profit niche reap the benefits of the online shopping world.
When it comes to selling a particular type of item on Etsy, it unavoidably has some certain steps to follow. One of the best-selling categories on the platform, stickers are what sellers have been seeking to make sales of.
It is of utmost importance to sellers to learn how to make stickers to sell successfully in their stores. Moreover, since there are tons of different styles of stickers out there, sellers sho
What Are Stickers?
Stickers on ecommerce platforms like Etsy have always been popular thanks to their usability on different objects such as laptops, water bottles, etc. They have become a unique way for people to express their character and personality.
Whether you are offering print on demand service or making pre-designed stickers in large quantities, the stickers will always appeal to a wide range of shoppers for sure. It is up to sellers to promote their Etsy shops effectively.
What Types of Stickers Can Etsy Sellers Make?
As far as the kinds of stickers are concerned, we have to have a closer look at the cutting styles and finishing techniques. First off, a cut of a sticker determines your creating process. There are two sorts of cuts for stickers. Let's dive in.
Die Cut for Stickers
This type is ideal for fitting the original shape of stickers. Both the paper backing and the sticker are cut to suit the original size of the item. Examples of this type involve, say,  a perfect hexagon for a project or an Easter bunny for the celebration.
Kiss Cut for Stickers
This style is used when the paper backing and the border remain untouched if the sticker has been removed from the item. It is perfect for creating a bunch of sheets of stickers when you make numerous designs for a variety of purposes.
Common Sticker Finishing Styles
Another notable part of stickers is how you give a shiny finish to them. In this regard, printing them on an object may feel great or awkward based on the material and finishing style.
Without further ado, let's name the most common ones:
Matte
Holographic
Glossy paper
Prismatic
Glitter through holographic style
Clear
Mirrored
Is It Worth Selling Stickers on Etsy?
Selling physical or digital items on Etsy has always been a lucrative business with correct strategies applied. After having specified their niche, sellers on the platform use useful tips to make significant profits and turn their business into a success.
Profitability
When taking a closer look at the statistics below regarding the profitability rares, we can easily see that Etsy has been gaining a lot of momentum in the last few years with a percentage of 6.28, coming second after eBay.
Sellers on Etsy through proper methods always have the potential to grow their business and boost sales dramatically. The numbers above clearly show that in terms of making profits on the platform Etsy outperformed other key players in the marketplace.
Shoppers and Growth Rate
Likewise, the statistics below show the ascending sales and revenue numbers throughout the last four years until 2022. Gross Merchandise Sales not only in the US but also in non-US countries increased at a significant rate.
Active sellers with a number of 7.5 million have really skyrocketed the figures with a growth rate of 72.3 %. Active buyers also saw an increase with a total of 96.3 million. 120 million products are shown in listings, a great figure for the boost.
Best-Selling Category
Stickers became the best-selling category in 2023 on Etsy, giving this niche an edge over other categories. Although it seems to be a tiny product, a sticker is purchased in large quantities, enabling sellers to make a huge profit through it.
Customizable parts of stickers make them an appealing market for would-be sellers with the creative skills to personalize digital items.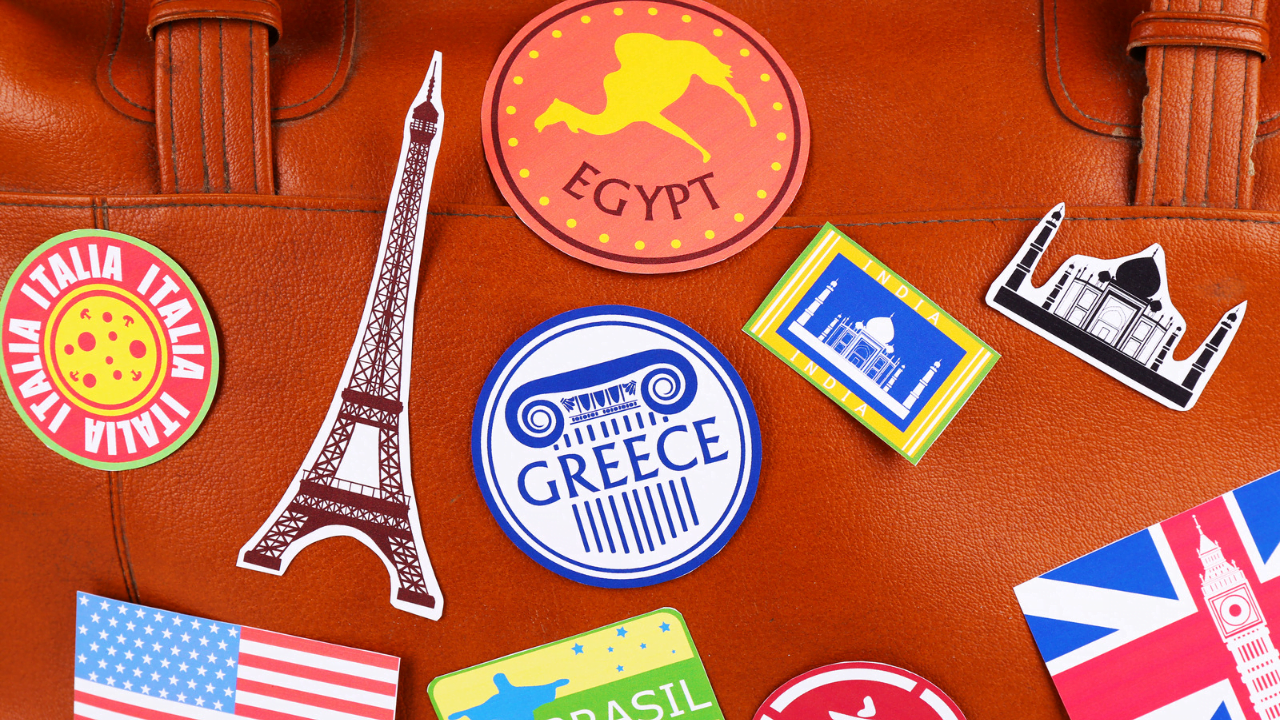 How Much Money Can You Earn Selling Stickers on Etsy?
It really comes down to how you approach your Etsy stickers shop, whether as a side hustle or a full-time job. The success of your shop and how much you earn are heavily based on marketing strategies, SEO searches, and pricing policy.
From the beginning phases, it may come as baby steps to manage the stickers shop. You will begin to see the big picture when you get more experience along the way, helping you specify the weak and strong parts of your shop.
Why don't we take a closer look at the living proofs of that case, each of them portraying really significant examples to learn? Let's dive in.
Earning $43,000 in a Year with Etsy Ads and SEO
For Tim Koa, an excited stickers shop owner, it is a gradual growth process. He describes his process as the chapters of success, each step of which is learning something new such as SEO procedure, Etsy ads, and a lot more parameters.
When his sales were doubling over the months his social life got limited as well. It got really challenging to manage the shop after a period of time because Tom perceived this business as a side hustle.
Starting with only $56 in August 2020, he reached a point in a year where he earned $9.375 monthly. As expected, these sales figures put a lot of load on his shoulders, making him work nearly four hours a day apart from his full-time job.
At the end of the year, Tim earned $43,676 from selling stickers on Etsy. Finally, as the sales decreased to around $3000, Tim was foreseeing the plateau effect of his business. He was focusing on what he could to improve his shop and he decided to take his time as his social life was normalizing.
Make  $1,000 Monthly with Youtube Ads
Kate sees her journey on Etsy as more of a budgeting process when it comes to allocating time and resources for her shop. She plans every phase of her sales in detail such as the fees for listing and transactions, the materials she purchased.
She started her Etsy shop in August 2019 and she made about $670, which seems to be a perfect start. The peak point for her was in January 2020 when she earned $1600 from the sales. The figures fluctuated somewhere around $900 in the upcoming years.
She uses a different ad strategy to promote her shop. Instead of using Etsy ads, she makes use of Youtube ads, which she says is much more effective for she can display her stickers on the video in detail.
Earning $2050 in 2 Weeks
As for the first two weeks' income for Shay, it is full of planning parameters so as to make a significant amount of money. She got nearly $2050 after the Etsy fees, which is ideal as a side hustle for her.
She is planning to invest this money to purchase more supplies to boost her sales in her shop. Increasing income by promoting Youtube ads is her marketing strategy as well. As she stated, as a perfectionist she will grow her business.
How to Sell Stickers on Etsy: A 4-Step Guide
As well as knowing how to make stickers to sell on the platform, you should also have the knowledge of selling strategies to get much more traffic to your shop and to skyrocket your sales.
In order to actualize this plan, you have the ideal tips to follow in each and every phase of your journey on Etsy. Without further ado, let's get cracking.
1. Determine Your Sticker Format: Market Analysis
Doing product research is all that matters when it comes to specifying your sticker format. This is where the EtsyHunt Research Product tool comes in with unique features to make use of.
To exemplify what has been explained, let's hit the search bar and type sticker and see what it can do. Here is what we have.
First off, you can search the word by categories, prices, and sales figures. For advanced searches, you have the options such as shipping country, favorites, reviews, and type of item.
Moreover, labels like raving, best seller, and Etsy pick are also displayed to get the full perspective. The release time of the product is provided as well to show you the overall timeline of the item in detail.
Finally, you can monitor seven-day sales, total sales, total favorites, and reviews of the trending products with all the necessary data. You can also take some actions such as adding the item to your favorites and taking a closer look at the product.
2. Design Your Sticker
You can use a bunch of art design programs to give a shiny finish to your creations. One of the most used ones is Canva with a lot of pre-made designs and works of art. You can always try it for free just to see what it looks like and later go pro.
You don't have to limit yourself with only one specified art design software program. Just to give you an insight, you can discover alternative tools to design sticker as well.
3. List on Etsy Following SEO Principles
As for the SEO of a certain kind of product, it is vital to keep track of the history of the keyword to see what competitors and other key stores on Etsy are searching for. No need to worry, the EtsyHunt Keyword Research tool has got you covered.
Let's see what it can do with the same keyword sticker. You will be greatly surprised by the data that will be revealed to you.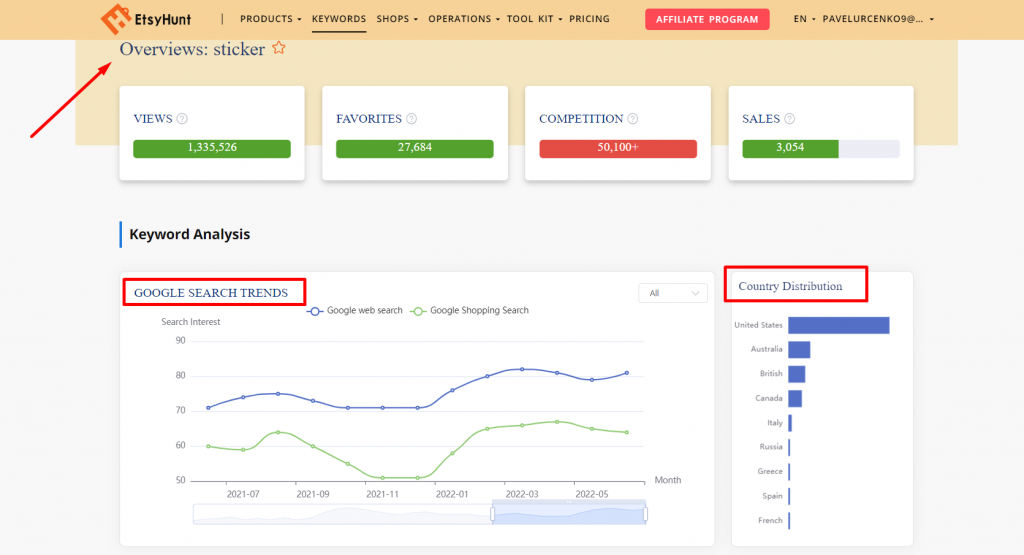 Firstly, you will have overviews of the word like views, favs, competition, and sales. Secondly, you have the keyword analysis by Google trends in addition to similar keywords statistics and country distribution.
Plus, you have the full analysis of 100 best-selling products alongside data like average price and shops competing. Last but not the least, shipping time distribution and price distribution are also displayed for full insight.
4. Pay Attention to Shipping
As the last point to consider, shipping times and fees play an important role in getting customers' attention and approval. Shipping just in time and affordable shipping costs mean positive feedback for getting the Etsy Star Seller Badge.
What Stickers Sell Best On Etsy?
There are tons of types of stickers on Etsy. Hence, it may be challenging to determine what stickers sell best on Etsy. You can follow top Etsy sticker sellers to explore.
However, it is up to sellers to decide on which one is the most proper one for their shop. The best-selling ones are as follows:
Bumper stickers
Clear stickers
Logo stickers
Photo stickers
Digital stickers
Last Words
Stickers have always created a buzz for both sellers and buyers on Etsy. They entice potential shoppers to shop at an unprecedented rate. Sellers wishing to set up a business like this should be aware of how to make stickers to sell on the platform.
Plus, they are supposed to know how to sell stickers on Etsy with proper strategies such as doing market research and SEO analysis. With the help of them, it is quite easy to find out what stickers sell best on Etsy. There you have it. Give them a go.
FAQs
Do I need any special programs or skills to sell stickers?
Both yes and no:) When we look at store owners on Etsy or any other platforms, we see that most of them are equipped with the skills to create digital items or design extraordinary graphics.
However, people with a great interest in illustrating enticing designs in style have the potential to do this unique business. These types of people are most known for their detailed work in creating digital printables.
How do I sell printable stickers on Etsy?
First off, it is really about deciding on what niche you are planning to sell on Etsy. You should also take the diversity of the audience into account when selling printable stickers on the platform.
Using the appropriate art-creating program such as Canva is another important factor. Finally adjusting the pricing policy will be a lifesaver if you are into this lucrative business.
uld know what stickers sell best on Etsy for a fresh start.