Online stores: Etsy is the most popular marketplace for selling vintage and handmade items. Part of its popularity is its ease of use and absence of monthly subscription fees.
But is the platform the best place for your online store? There are factors to be considered when opening an Etsy store, including fees, competition, and suspension of accounts.
We'll review your online store's ten best Etsy alternatives, including marketplaces, eCommerce platforms, and website builders. Ultimately, you'll be able to make an informed decision if Etsy is still the right choice for your online business.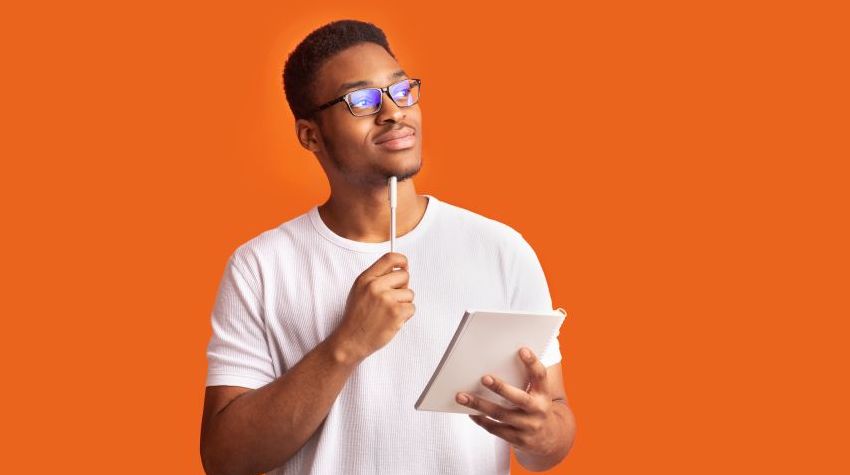 Why Switch to an Etsy Competitor
The Etsy platform is an excellent option for small business owners, but some factors make it not the ideal platform for many sellers.
In the following, we'll see the main reasons some sellers consider other options for selling online, fully replacing an Etsy shop or opening a store on another platform simultaneously.
Many current Etsy store owners were caught off-guard by increased selling fees in last year and needed to re-evaluate their products and prices and consider an alternative marketplace.
Etsy doesn't charge a monthly membership fee or a subscription. However, it charges various fees for listing and selling products, in some cases making them unprofitable.
While Etsy fees are low enough for newbie sellers, they accumulate when the business grows. The platform's expenses can become more significant than those of some competitors.
That happens especially with Etsy Off-site ads, a program from which sellers cannot opt out after reaching a set sales threshold.
Check a comprehensive and up-to-date discussion on all Etsy fees and Etsy off-site ads on our blog.
Many small businesses are attracted to the Etsy platform due to the absence of a monthly subscription fee or promises of easy money with dropshipping. That makes Etsy packed with merchants, many selling similar products, looking the same, and making it hard for newcomers to get visibility without Etsy ads.
Etsy's customization possibilities are restricted if merchants don't subscribe to Pattern, the Etsy service for creating your own website connected to the platform.
You can customize a shop in the Info & Appearance section by altering a store's name and title, adding an icon, a banner, photos, and customizing announcements. It's also possible to create a list of featured items and rearrange some listings, but that's it.
Etsy is a closed environment with its own rules and terms of use. That makes it easier for sellers to inadvertently break some rules without knowing it and have their accounts suspended or even canceled without warning.
Sometimes the suspensions look arbitrary – some Etsy sellers have their accounts frozen while adding products from print on demand. Others, during the process of confirming bank accounts.
In any case, they are annoying and a nuisance for those merchants genuinely trying to create a respectable business in the marketplace.
Etsy alleges that emails are sent explaining the reasons for the suspension, but that is not always the case, and their customer support can take a long time to address such issues.
Top 5 Etsy Alternatives Among Online Marketplaces
Next, some of the top Etsy alternatives among marketplaces.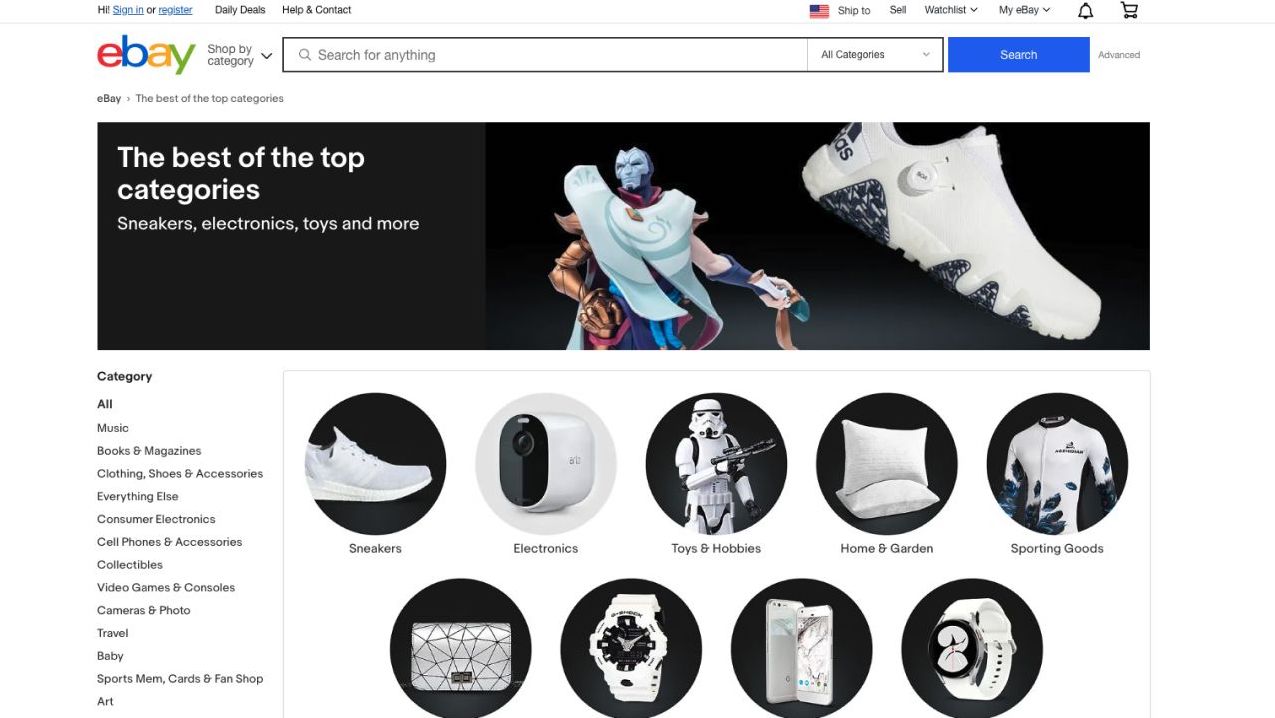 eBay was the first auction website and is one of the oldest online marketplaces. Depending on the seller, products can be sold immediately with the Buy It Now button or by the highest bid. Buyers look to eBay for good deals and a variety of products – almost anything can be found in the online marketplace.
Setting up an account with eBay for occasional buying or selling is simple and needs only registering an email and some personal data.
Creating a regular eBay store requires subscribing to a paid plan. The basic setup is simple, but the process may get complicated for some users due to the internal rules and thresholds. Account suspensions are frequent, and sellers must keep up to date on internal platform policies.
Unlike Etsy, eBay lets first-time sellers offer only up to five products, upgrading after some months.
eBay listing fees are called insertion fees – they decrease according to the store plan and work differently from Etsy listing fees depending on the item. Insertion fees can reach zero over time. We recommend reading eBay's guide on insertion fees for a detailed explanation of the intricate system.
There are a few customization options. Store owners can personalize the description, logo, banner, and picture, while listings have photos, titles, descriptions, colors, and sizes.
eBay offers selling templates for creating similar listings, and the Manager tools let users monitor sales and edit listings. The mobile app can do most of the marketplace selling and management.
eBay may be a suitable Etsy alternative, depending on the sales volume. It is also possible to dropship with eBay and integrate it with Printify.
Consolidated traffic and attendance
Auctions allows increased profit from single listings
Simple setup
Limited customization
High competition for regular listings
Complex policies and rules can lead to account suspensions
Starter – $7.95 per month. For beginner sellers with few products.
Basic – $27.95 per month. Adds benefits such as more insertion fee credits, fee discounts, or coupons.
Premium – $74.95 per month. This plan offers more zero insertion fee listings, lower fees, and more business tools. Intended for merchants with a considerable number of listings.
Anchor – $349.95 per month. Adds dedicated customer support and a reduced final value fee cap. Intended for merchants with high-volume sales.
Enterprise – $2,999.95, available yearly. Intended for merchants with extensive catalogs. Builds on the previous plan with an increased allowance for zero insertion fee.
Insertion Fee – $0.35 per listing
Final Value Fee – varies according to the product. Normally 12.9% to 15% of the product price.
Check out our blog on eBay compared to Shopify.
eBay's subscriptions and fees pages have a complete list of fees, subscription costs, and functions.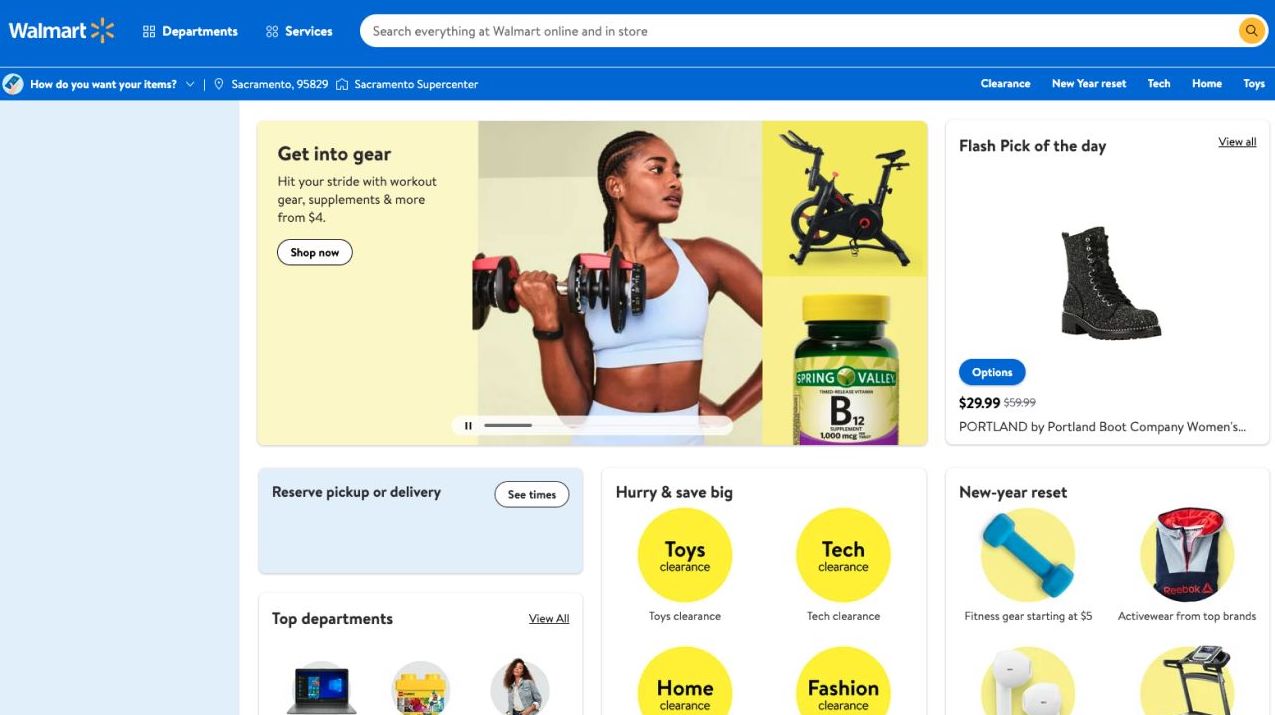 Walmart is the second largest retailer in the US and one of the best alternatives to Etsy for sellers who want to expand to marketplace selling.
Individual Etsy sellers willing to join the Walmart marketplace must pass a complex business verification process. Afterwards, they set up payment and shipping.
To pass the business verification, sellers provide a business tax ID or a business license number with supporting documents. All products need to have GTIN/UPC GS1 company prefix numbers and should comply with Walmart policies.
In addition, the online marketplace requires a proven history of eCommerce success.
Walmart doesn't require subscriptions or listing fees. Transaction fees are replaced by a general referral fee that varies depending on the product category. Most products receive a 15% referral fee.
Integration with Walmart is done chiefly via solution providers, an API connection, or authorized partners.
Access to the second largest market in the US
No monthly fee or subscriptions
High trust in the marketplace among customers and developed structure
Demanding admission process for sellers
Huge competition
No standalone store and few customization options
No monthly subscription
Referral fees per transaction – 15% for most items.
Integration with Printify
Printify is the first print-on-demand service to offer easy integration with Walmart.
Apply to connect your Printify store with Walmart through our integration and unlock more than 220 million potential customers.
Don't have a Printify store yet? Create one now.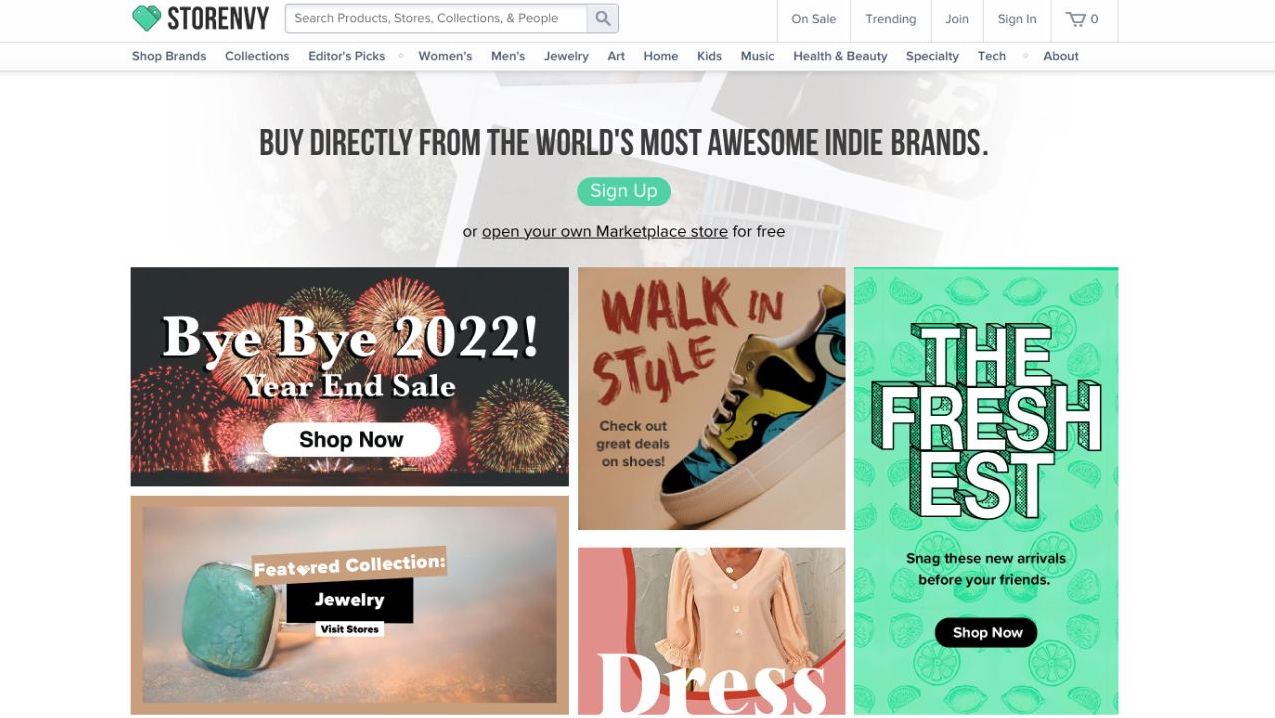 Storenvy is an Etsy alternative with curated aesthetics focused on Indie brands, handmade products, and younger demographics. It is the best option for selling unique, vintage, or high-quality goods in your own online store while benefiting from a marketplace audience.
Sellers can set up a free online store or a social marketplace store and join up to three predetermined markets such as "Art & Prints," "DIY & Supplies," "Electronics, Gadgets and Accessories," "Food," or "Vintage."
The market offers good customization options, including themes, changing fonts, colors, headers, and backgrounds.
Storenvy offers promotional tools such as "managed marketing," advertising products on Google, Facebook, or Opensky, and gives a limited number of discounts and promotions according to the plan.
All the basic functions are available in the free plan. Storenvy charges a 15% commission on sales in place of listing and transaction fees.
Less saturation and competition than other marketplaces
Higher product prices
Allows creating your own website with no additional costs
Limited audience
High selling commission
no control over the marketing tools and strategies
Free plan – Up to 20 products
Artisan plan – $9.99. Up to 100 products
Growth plan – $24.99 per month. Up to 500 products
Professional plan – $49.99 per month. Up to 5,000 products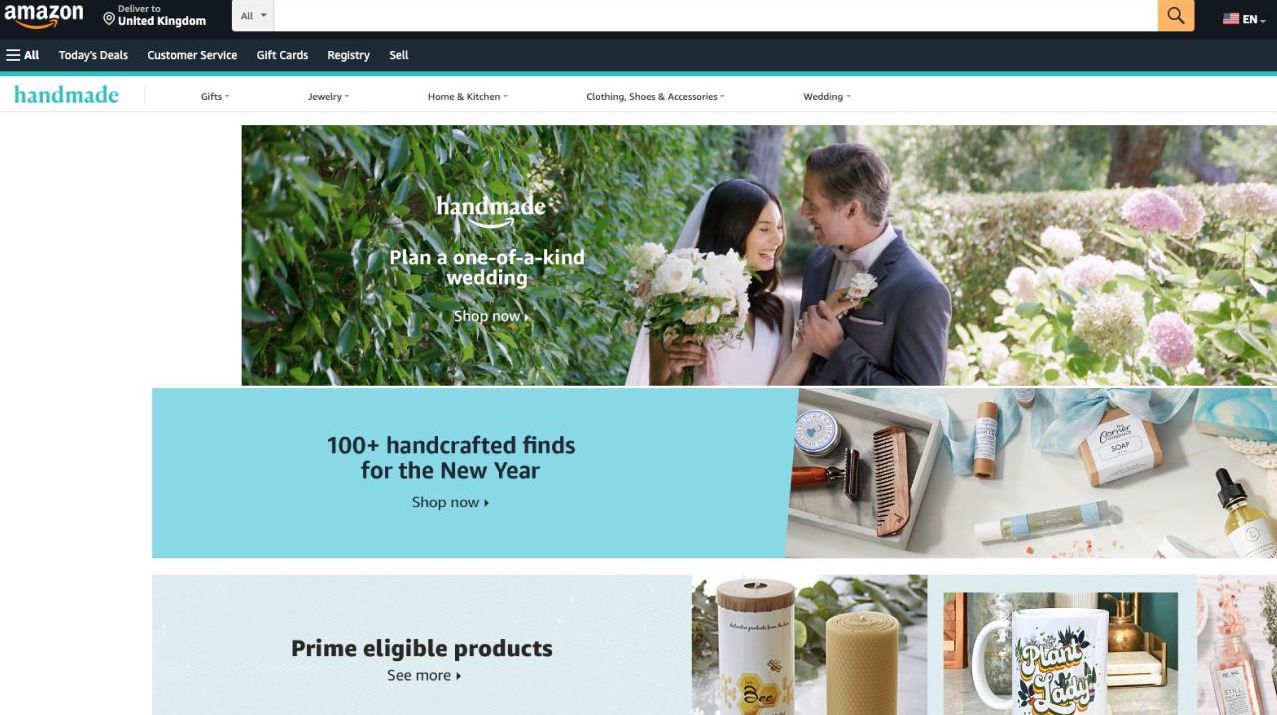 Amazon Handmade is the giant's iteration for selling handmade goods, including jewelry, handbags, apparel, and wedding accessories.
Amazon Handmade sellers have access to the indisputable first eCommerce option in the world. That comes with pros and cons – worldwide exposure means competition with millions of merchants selling cheaper and often lower-quality products.
To start selling at Amazon Handmade, sellers must first have an Amazon Professional selling account with a monthly fee of $39.99 per month. However, this fee is waived one month after the seller is approved.
No additional subscription is charged for those selling only handmade products, except for entrepreneurs selling more than 40 products in other categories. In that case, the seller must pay the monthly subscription again.
In addition, Amazon charges 15% of fees per transaction and demands considerable maintenance of a non-customized storefront.
Unlike Etsy, Amazon Handmade offers advanced marketing tools.
Amazon Handmade is an Etsy alternative for full-time sellers faithful to the original Etsy handmade crafts focus, willing to remain in an online marketplace and use an automated fulfillment system. Part-time sellers may find it too costly and demanding.
Selling in the largest marketplace in the world
Fulfillment and ads by Amazon
Listings don't expire
Hefty competition with cheaper products
Long application process for new merchants and strict internal rules
High fees
$39.99 per month – for users selling more than 40 products in categories other than Handmade
Referral fee of 15% per transaction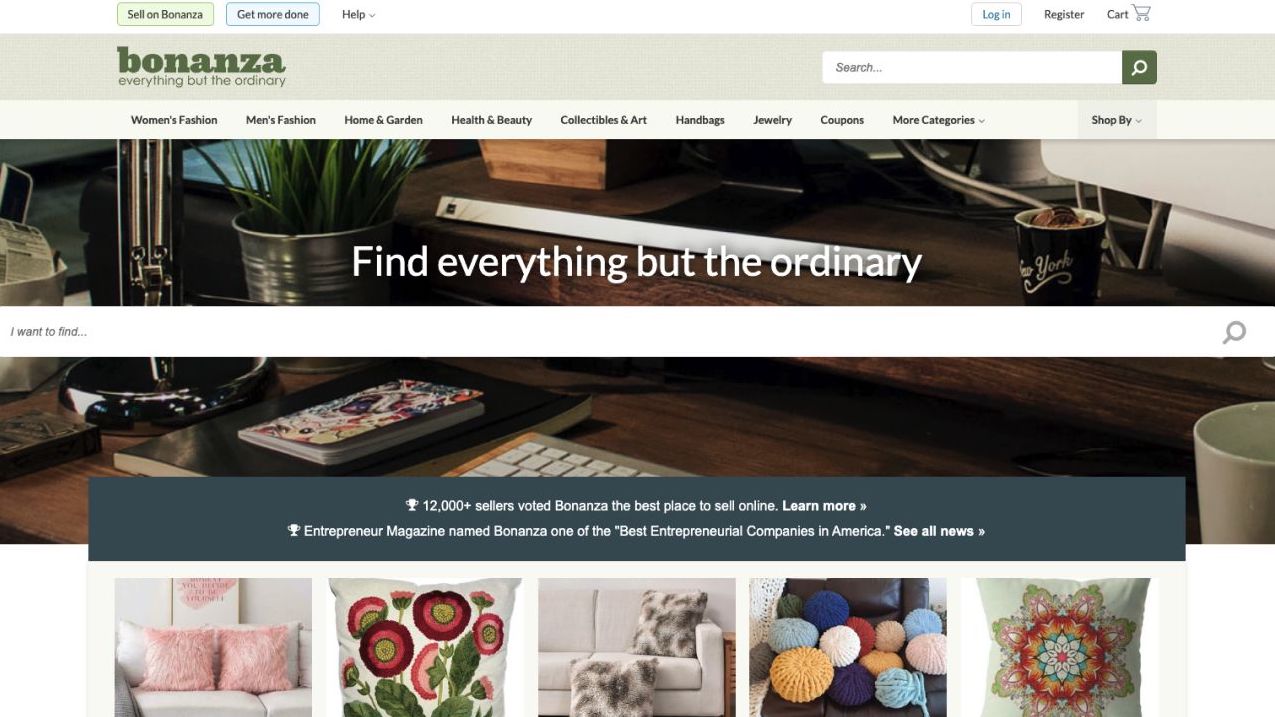 Bonanza is one of the top Etsy alternatives, as it allows selling for free with lower transaction fees. It charges transaction fees of $0.50 + 3.5% of the item price but no listing fee.
The platform lets users build a standalone store, but the tools for that purpose are limited and not very user-friendly.
Bonanza looks and functions similarly to eBay but focuses on unique items. It imports items from Amazon, Google Shopping, eBay, Etsy, Shopify, or from an inventory file. Many searches on the platform redirect users to eBay results.
Traders in Bonanza are expected to negotiate prices. When selling on the platform, remember to add some wiggle room.
The platform offers marketing tools and analytics within the free plan, while the membership plan gives sellers more selling and marketing features. Unlike Etsy, Bonanza offers abandoned carts to sellers.
Expanded reach through Google Shopping and eBay
Built-in marketing features like abandoned cart
Low selling fees
Limited customization
Adding options and getting noticed greatly increases costs
Buyers are used to negotiating and bargaining for lower prices
Free
Membership plan – $25 per month
$0.50 + 3.5% of purchase price advertising fees
Alternatives to Etsy include marketplaces like eBay, Walmart, Amazon, Storenvy, or Bonanza. Other Etsy alternatives are eCommerce platforms such as WooCommerce, Shopify, or BigCommerce, or website builders with eCommerce functions like Wix or Squarespace.